We all know that domain is the first main part of the website. Without having a good domain it is difficult to rank your site in any search engine (ie. google, bing etc.). But many of my colleague bloggers found a difficulty to find the best domain provider in our internet world as there are tons of domain provider that want to serve us with their best abilities but some reasons they are not able to that. So Here I have to make a list of some domain provider's that are best with their feature's.
The foremost domain provider in our list is Namecheap. This domain provider was discovered in the year of 2000 by a person named as Richard Kirkendall.
This domain provider is best known for his best quality of domain at a cheap price for both business or individuals like TLDs which your particular business segment. Moreover, this domain provider was also nominated for reader choice award in the year 2013. Namecheap become popular because of its TDLs offers to users like .tech, .club, .world, .hub, .pro.
As serving to the internet with the best quality of domain they also use to provide hosting to their customer like shared hosting, reseller hosting, VPS hosting, Dedicated Hosting, Email Hosting with very low rate of prices. In the year of 2012 to 2015, Namecheap was selected for LIFEHACKER POLL.
The second most important factor is that "THE TECHNICAL SUPPORT". Namecheap is also known for his on real time help to their customer.
You can contact with name cheap with live chat or support ticket.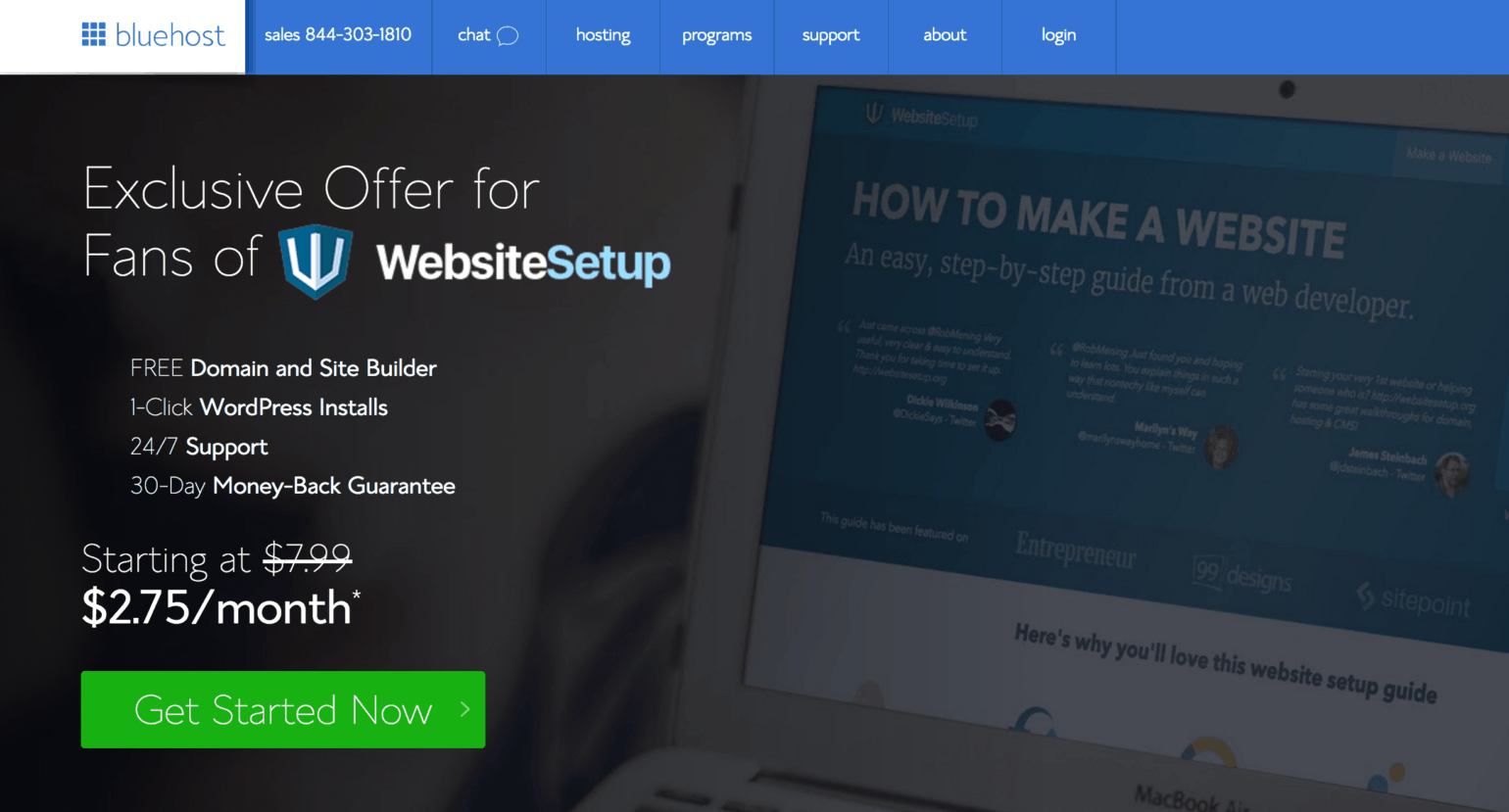 Coming to second domain provider in this list is Bluehost. As the name suggests that it, not a pure domain provider but then it comes at no. Second with its best features as a domain provider.

Bluehost's security options are good, offering tools that combat some of the most common website risks.

Bluehost also comes with a dashboard full of applications so that you can integrate various services, like Google Apps and the aforementioned CloudFlare, to increase the possibilities of your site.
Technical support of this domain provider is at the top level by providing service at 24/7 including holidays that is not provided in any of another domain provider in the internet world.
3.
iPage
Cost:
$1.99 per month
Official Website:
iPage.com
ipage domain provider was created in the year 1998. The best thing in this provider is that when you purchase their hosting plan the give you one domain free with hosting. This makes him
to
come at no. Third in this list. The main key services provided by this provider are Site lock security, Site Analystic, Daily Spam, Malware Scanning, and my more.
They also provide a guide on new Top Level Domain Names (TLDs), as a new one seems to be popping out every few days.
Technical Support of this domain provider is very good as like the Bluehost by providing live chat,

support ticket. It takes 1-2 days to reach you even if you are on the other side of the planet.
Godaddy comes at 4th position in domain registrar that also offers web hosting services. Established in 1997, and originally known as Jomax Technologies, Godaddy is now the world's largest domain registrar company.

A unique feature to GoDaddy is their domain recommendation tool, that helps you brainstorm for the best names via keywords.
Godaddy become more popular because of registrar in the world that offers .com domain names for $9.99 per year (or $7 if you transfer from another registrar). GoDaddy also offers .us, .biz, .info, .net, .org, .ws, .name, .tv, .co.uk, .me.uk and .org.uk, etc.
Their hosting plans start from $4.99/ month that is same as Bluehost and Hostgator. Godaddy is best for buying the dom
ain name, according to my personal research their hosting service is not much good
in past days.
Hostgator is another developing domain provider with over 9,00,000 domain+ hosting has been served to their user's. Hostgator is not a pure domain provider but he tries to push itself to next level. This site was created in the year 2002.

HostGator is reliable as a solid grounding for bandwidth-heavy sites.
Technical Support of Hostgator is good.
They also offer a great around the clock customer support system, all 24 hours and 7 days a week as well as a toll-free number, live chat, and ticketing support that allows you to reach for help anytime you need.

Cost:

Starts at $0.99 first year, then $15 per year

Official Website:

1and1.com

Coming to last in our list but not in the internet world. 1and1.com was founded in 1988, 1and1 is another cheap and well-known domain selling company. What's unique about 1and1 is their insanely cheap starting price of only $1 to $2 for first-year domain name registrations with exclusive discounts on web hosting plans. Till yet this provider has served to 19 million domain to the users from both business and private users.


Technical support of this fair because it only operates with via calling.

Besides this, if you are from non-English speaking countries you may face some difficulties to communicate with them