Do you know now you can host your site for free? We used to pay bucks monthly, quarterly or yearly to the hosting provider as hosting charges. With

free hosting provider

, you can now host your site for totally free without any worries. The free hosting service is very helpful as it helps a lot for students and newbie bloggers because usually, they don't have much amount on their hand to spend on premium hosting plans.
Many web developers looking for a better place to host their website and some bloggers who are new in this field also try to host their site for free. So for that free hosting works greatly and always remain very helpful.
This is one the best free hosting company that offers quality support to all of their customers despite to their type, free or paid. It has a great user interface that helps to set up your site more easily and quickly.
Great User Interface.

Advanced SEO tools to boost your site.

Support major language and database.

Offers great security. Provide SSL certificate.

Good bandwidth.
Free Hostia is another best free hosting site on which you will get some feature that you will miss in paid hosting. It is a fully cloud-based hosting provider that offers better quality and high speed. Try our 1-Click Applications Installer and install Joomla, WordPress, phpBB and much more free PHP scripts with just one click.
Good bandwidth.

5 Hosted Domain(s).

250MB Disk Space.

6GB Monthly Traffic.

Very easy site installation.

24×7 supports.
It provides quality hosting service. This company was started in the year 2007 and from that time they are providing quality service. This free hosting company is ideal if you are looking for small or medium size site hosting. They offer better storage and bandwidth.
Statistics on your site traffic.

SEO analysis tool.

SSL certificates to make your site secure.
It is popular as a free hosting service provider where you can host your site within 30 seconds. They are running a quality service and providing the same quality of service in both free and paid service.
Free 2000MB storage.

Better 100 GB bandwidth.

Support cloud storage.

Support MySQL database and PHP language.

Free from any type of ads.

Good customer support.
5. 5GBfree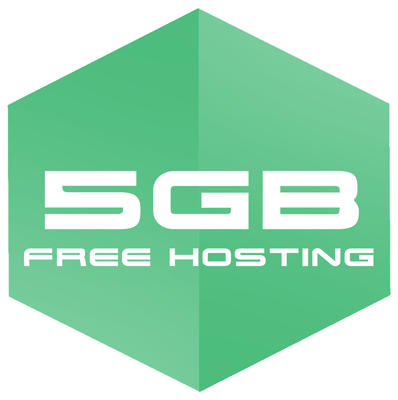 This is a very new free hosting provider company. It offers security and quality to their users. Don't ignore them as they provide free service. Some of their services are better than paid hosting service.
What do the

5GBFree

offer?
Good storage capacity.

A better bandwidth of 20 GB.

Support e-commerce site hosting.
6. Weebly.com
It is also a free hosting site and it is very popular for its excellent service. They remain updated with many themes and tools.
Decent storage capacity

Different themes and tools.

Support MySQL v5 database.
7. ByetHost
ByetHost offers everyone to have the website from MySQL, PHP, VistaPanel, FTP, etc. Gets your own website with the balanced web hosting services from byethost.com. This is my favorite and offers a good hosting service along with better customer support. They provide security and quality service.
What does

ByetHost

offer?
1GB storage.

Support FTP.

24×7 customer support.

Support major platforms.

Better clustered support.

200 GB monthly transfer

Error page manager.

Free WordPress hosting no ads & no popups.
8. X10Hosting
This is an old free hosting service provider which has more than 11 years of experience. It is very popular among all free hosting service providers. They have both free and paid service. So choose as per your requirements.
What does the

X10Hosting

offer?
Unlimited web storage.

Unlimited bandwidth.

Support e-commerce site.

Easy to handle.
9. Zymic

If you love free hosting then choose

Zymic

. They offer many different services in their free hosting plan. In a very small period of time, they became a well known free hosting service provider.
Unlimited bandwidth.

GB storage facility.

Free from ads.

Support all major web languages.

Better security and support.
10. FreeHostingNoAds
It is one of the best free hostings I have found over the internet for the newbie. This offers me 20 GB space which is almost good for any new blogger.
Some of the Best features of FreeHostingNoAds are.-
20 GB space

200 GB traffic,

3 PHP Versions

Free Site Builder

POP3 Email Account

Host Your Own Domain

Free URL like You.t15.org

No Forced Ads
So these are some companies where you can host your site for free. Opt any one of the above and host your site for free. You may find more results in the Google when you will search it with the terms

free hosting

. We have listed all the

Top and Best Free Web Hosting in 2017.